By Sally Chun (Programme Manager (Reconstruction Programme), PCD)
Since I took over the 512 earthquake reconstruction programme in late 2009, I encountered a few aftershocks in Chengdu. To me, these were concrete warnings that the Earth gave out to remind me that many people were still living a life with aftershocks. I came across many painful stories of life over the last one year and more. To tell the truth, I have avoided the most severely stricken areas which have been turned into ruins. I have lied to myself that reconstruction work was oriented to the future and aimed at helping survivors to find the strength to go on with their life. Last November I visited the ruin of Hanwang Town, Mianzhu City, one of the most severely stricken areas. I saw ceilings that had crashed down on mattresses, bamboo stools among the rubble, and slippers along the side of the street. As the cold wind blew harshly over the ruin, I thought: If it had been my relatives who had lain under the ruin, if I were the one who had lost both legs, and if I had to spend the rest of my life in a wheelchair, would I dare to look back and to visualize the future? Would I be able to face the present?
The Road of Community Reconstruction
After the earthquake, PCD launched 22 small scale reconstruction projects in collaboration with 11 NGOs. We focused on two questions: In the face of a major disaster, where do individuals and the community find the strength for revival? Does a return to normal life mean restoring life before the earthquake? Some of our projects target regional communities, while some involve rehabilitation of specific groups of people, such as mothers who lost their children, students who survived the earthquake, and those who were left handicapped by the disaster In rural areas, we try to integrate sustainable living concepts into our projects by supporting community rehabilitation models that are people-centred. In schools and campuses, we try to sow seeds that foster conditions that help people to grow as individuals while supporting each other, instead of an emphasis on examinations.
There is still much to do, but we have already seen, and gained a lot. We have witnessed the vigour of life that is transmitted from one person to the next and that spreads as a result of mutual understanding between people.
Living with Aftershocks
Tang Siqiong, a survivor suffering from an immobilising spinal cord injury in Mianzhu, who uses a camera to record being able to look straight at her legs on the wheelchair. With her small grant she rebuilt her pigpen and now has piglets. After modification of Tang Siqiong's home, her ability to care for herself is hugely enhanced -- Her radiant smile seems to say: "Let's work hard!"
Yuan Qin from Pengzhou City is another injured survivor. "I can't rely on others. I must be strong myself!" she says. Under her vibrant exterior, we sense her grief and sadness. Yuan Qin was at home when the earthquake struck. She ran downstairs but the wall began to fall, so she ran back upstairs and jumped from the balcony of the second floor, slipping and breaking her back. Her husband was at his workplace, so survived the earthquake, but her mother was killed. Yuan Qin was sent to Guangdong for treatment and was unable to say farewell to her mother. She returned to Chengdu for rehabilitation in the hospital, lying in bed all day thinking that she would never walk again. The intervention of the rehabilitation project and the persistence and encouragement of the doctors and the nurses made it possible for her to recover enough to take a walk with me today. We chatted in the fragrance of garlic in her home. When I was about to leave, she was holding my hand --At first lightly, and then firmly. I could not think of what to say. I embraced her and was grateful that she trusted us. I called her today and learnt that her mother in law had died in a car accident. "I wanted to cry…now the burden is all on me…I am very tired," she said. Her husband works on a construction site, while her child attends Primary 5. Yuan Qin works in the field, alone. Sometimes, to earn money, she cooks at the construction site where her husband works. She said that the owner of a small factory nearby told her she could work in his factory and that she would be allowed to have flexible working hours. "The factory owner was particularly nice to me", she said and once again, her tone was vibrant and strong.
Back to Sustainable Living mode
The next phase of the reconstruction programme is to continue to explore and to build a space where humans can live symbiotically with the earth. After they had suffered their own earthquake, a Japanese friend asked me what reconstruction meant in its true sense. Did it mean returning to the earlier consumerist mode of development, or has the nuclear power plant explosion roused us to reflect on energy, life and development? Can we regain our self-confidence without sharing our lives with all others that live on this earth? Can self-confidence and strength grow at a community level? I remembered the words Tang Siqiong wrote on a photo she took of herself: "Happiness comes from a kind of self-confidence."

Photo Sharing:
+ Click thumbnail to enlarge photo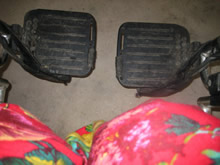 Photography as a therapy. PCD and partner provided camera and encouraged earthquake victims to express their feelings through photo taking.
Tang Siquiong took a photo of her injured legs.
Tang Siquiong took a photo of herself, a smiling face.