By Luo Dan (Chengdu Roots and Shoots Environmental Culture Exchange Centre)
"Petrol Station for the Human Body" was the name of a shop along an old street in Tsuen Wan that I saw on the last day of our study trip on urban farming in Hong Kong. I was curious about the shop and thought it must be for drinks such as Chinese herbal tea. Tired from walking, people could sit down here for a drink and then continue on their journey. As I recollect the study trip and the experience of the various groups that work on urban farming, I feel I have become more vigorous and am able to continue on my long journey forward. I am therefore stealing the name of the shop I saw in Tsuen Wan for this article on the study trip.
Is it possible to do "farming" in the city?
"Are you joking? You are coming to observe and study farming in Hong Kong? Agriculture in Hong Kong has long gone! Commercial activities are very developed here. The vast world of agriculture belongs in the Mainland!" So my friend in Hong Kong said in surprise. Yes, it is indeed inconceivable. However, the impression that Hong Kong gives me has always been "contradictory". On the one hand, it is commercially very developed and people are indifferent towards each other; on the other hand, they take part in public service actively and are generous in giving donations to poverty alleviation, and so on. In the mean time, farming is practised in Hong Kong, where the price of land is exorbitant, by charitable organizations, ordinary citizens, indigenous people and new immigrants. Farming is practised by all kinds of people in different ways and a contradictory term, "urban farming" was used to encompass all these activities. How can there by "farming" in the cities? What can be done at most is growing a few flowers and plants! However in Hong Kong, a city of contradictions, agriculture is really being undertaken in various corners of this city. Why does this occur?
Practising integration and sustainable development
We visited a number of places during the seven days in Hong Kong, and had continuous exchanges with other participants from the Mainland during the trip. At New Life Farm, people suffering from mental illness and intellectual disability are engaged in eco-farming and activities such as sorting and packaging vegetables. The purpose is to help them integrate into wider society with dignity. At O-Farm, urban employees, who work for a living and a career during weekdays, take part in farming at weekends to relax and unwind their taut nerves. At Kadoorie Farm and Botanic Garden, a group of people, who are passionate about the land, convey their belief in sustainable living to society through farming. At Tai Po Old Market Public School (Plover Cove), a garden plot becomes a means for children to learn and study about environmental problems in Hong Kong and China. At Mapopo Community Farm, the third generation of an indigenous family makes use of eco-farming to invite people to reflect on business property development under urbanization, and to gain time in their struggle to protect their homes from the encroachment of urbanization. At Produce Green's Golden Organic Farm for the Elderly, people above 60 have found happiness in their later years, by being here and by sharing the fruits of their labour with their families. At the Castello Organic Farm, middle-class people draw closer among tall buildings that look cold and indifferent. They are even considering deepening and broadening their practice in environmental protection and sustainable living. At the "Family of Tea Seed Oil", we took part in discussions, "Bread Comes First" and "the Wisdom of a Traditional Diet", after which there was a session of collective cooking. I could not but admire the organiser—a Jiangxi woman who was married to a man from Hong Kong.
I think the meaning of "urban farming" is not only about engaging in eco-farming in the city. Rather it is a practice that strives for diversity, integration and sustainable urban development.
Striving for diverse lifestyle options
In Hong Kong, eco-farming has become an approach that carries different values and meets diverse social needs. In terms of urban sustainable development, our partners in Hong Kong are ahead of us. For Roots and Shoots, an environmental group that aims at sustainable social development, Hong Kong's experience in urban farming is very valuable. The idea of urban farming can be used in our programmes in schools and local communities.
Because society is developing too quickly, even Chengdu, an inland city in western China, is sometimes anxious about lagging behind if it does not pay enough attention. Buildings are getting taller and taller. There are more and more cars. Brand-name chain stores are everywhere. Under a so-called "plan of coordination", an increasing number of rural villages are becoming towns. The size of cities is expanding rapidly. It is no longer possible to reverse this development, but is it not possible to have other options and diverse lifestyles? When people are running fast, should there not be a place for people to take a rest—a "petrol station for the human body"?
Photo sharing:
+ Click thumbnail to enlarge photo
At New Life Farm, ex-mentally ill persons are engaged in eco-farming. The purpose is to help them integrate into wider society with dignity.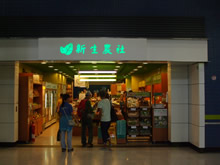 New Life Farm open retail shops selling produces directly to consumers.
At Produce Green Foundation's Golden Organic Farm for the Elderly, people found happiness in their later years.