Please put our email address enews@pcd.org.hk to your email address book so as to prevent the e-Newsletter from dropping to the "Spam Box" and ensure your access to it.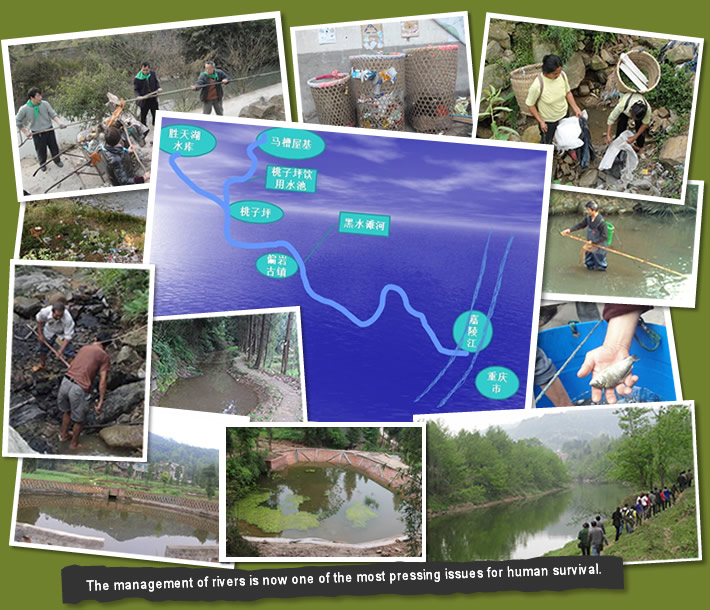 Rivers Ruined by Mainstream Development: River Management Initiatives in Sichuan and Chongqing Explore the Way Out
PCD has worked in Sichuan Province for a comparatively long time. In 2002, we started to work in rural areas of Sichuan using community-based health service as an entry point. However a discussion of health cannot be separated from the ecological conditions of people's living environment. Because of this, the notion of health was broadened and the concept of 'ecological health' was used to link human health with lifestyle, natural environment and the ecological system.
PCD's ecological health programme sites in Sichuan are scattered along the banks of a group of small rivers. These rivers have therefore become the nexus of PCD's Sichuan programme. Rivers can be considered a lifeline for human survival. The development of fisheries and agriculture, together with all our other basic needs in everyday life, depends on having a source of clean and natural water. When rivers are destroyed, our culture withers and our survival is at stake. Today, modernisation and urbanisation are moving forward at a high speed in China, while sustainable living is being undermined by the destruction and pollution of rivers. The management of rivers has become the most pressing issue for human survival.
This issue of the E-newsletter explores the conservation and management of two rivers in Sichuan and Chongqing, examining such issues from diverse perspectives, including the holistic approach. A technical strategy characterised by sporadic and piecemeal steps that treat only the symptoms is not enough: a systematic response is necessary to address the problems facing rivers. The crux is to train a local conservation force and to document experience as well as to refine solutions from experience. For example, in initiatives to build an eco-village and to implement community projects for the local economy in a community along the bank of Huaxi River in mountainous northeast Sichuan, the conservation of water resources, water environment, aquaculture industry and water culture has to be considered in a comprehensive manner. It involves elements of culture (the cultural ethos of showing respect to water and nature), natural ecology, economy and environmental protection, and how to manage them in a holistic manner. In the city of Chongqing, the water basin of the Heishuitan River is being destroyed by pollution. Living things in the river are nearly extirpated, and villagers are at risk of losing their source of drinking water. Through education and consciousness-raising initiatives, we have been working with the villagers to alleviate the problem and to explore ways to address its root causes so as to build a sustainable way of living.
The Source of Rural Culture: The Story of River Management at an Ecological Village, Bolinwan - By Zhang Haoliang (Secretary-General of Daba Mountain Ecology and Poverty Issue Research Institute, Sichuan; Forestry Engineer)
Love Her Deeply: An Account of the Conservation of the Aquatic Life of Heishuitan River - By Wang Pei (Group Leader of Heishuitan River Ecology Conservation Group, a residents' organisation of the old town of Pianyan in Beibei District of Chongqing City)
Facing the Truth and Making a Concerted Effort to Solve Problems: The Story of the Construction of a Reservoir for Drinking Water at the Upper Reaches of Heishuitan River - By Lu Yinchun (Programme Assistant, Chongqing Public River Environment Protection Cultural Centre)



Success and Happiness of an Ecological Farmer in Guangxi

Many people who want to adopt ecological agriculture are worried about market risks. They are concerned about their livelihood, especially when the sale price of their produce falls short of their expectations. However, in Guangxi there is an ecological farmer who has given hope to fellow farmers. His products are a market success. His persistence in the pursuit of his ideals has also brought him happiness. Under his influence, other farmers are taking up ecological farming to make a living. The eco-farmer started by raising pigs with ecological methods and went on to cultivate conventional rice varieties and raise ducks in his paddy fields. Now he also practices natural farming in growing fruit trees. He has always refused to use pesticides and chemical fertilisers and has been learning all sorts of ecological farming methods with an open mind…… [More]



The Cultural Guardian— Rediscovering the charm of spinning tops and the culture of making cow horn musical instruments (Video)

Treasuring, conserving and passing on traditional culture is an important part of sustainable living. A staff member of the Ecology Museum at Li Lake in Nandan County, Guangxi, took up a video camera to record the action of a primary school teacher who had been doing his best to preserve and pass on local culture. The video depicts the teacher's efforts to preserve the tradition of spinning tops and shows the production of the cow horn musical instrument. The charms of these traditional practices are being rediscovered in the process. The award-winning video shows young people a way to gain knowledge about their home village and the culture of their own people…… [More]
Searching for the Forest's Species—Expecting Red Flying Squirrels, Tree Frogs and Hoolock Gibbons

Gaoligongshan Nature Reserve in Yunnan is renowned for its rich biodiversity. There are nearly 5,000 species of higher plants and all sorts of rare animals and birds, including 81 first- and second-class state-protected species. PCD has been supporting many activities to conserve the biodiversity of the reserve. A 10-year-old child visited the forest and came face to face with a few important animal species that are flagships of the reserve's biodiversity. As he waited and looked, the child experienced instant joy when he saw the animals that he had been anticipating. Such is the delight that nature brings to human beings…… [More]
Periodical for Sharing — Fragrant Soil 6
Fragrant Soil is a periodical published by PCD to encourage reflections on sustainable living. Issue No. 6 features initiatives of young people who remain in the cities in mainland China, Taiwan and Hong Kong. In their articles, they write about how they have been loosening the urban soil and building a more autonomous, humane and ecological way of life using food, handicrafts, culture and mutual help as entry points. Prof. Qian Liqun, renowned cultural scholar, has lent us support and encouragement by writing an introductory article for the feature entitled 'Searching for the Roots of City, Rebuilding the Connection Between Cities, Rural Villages and Nature'. To download the periodical.

Printed versions are available in Beijing and Guangzhou. For details see:
http://www.pcd.org.hk/zh-hans/node/1319
You may be interested in the following information:
Our Vision and Mission / History of PCD / Our Publications / Primary Approaches – Training of Facilitators / Where We Work
"Rivers are the source of life and culture of rural villages, inseparable from rural society. They guarantee ecological security and provide villagers with their everyday needs. They ensure harvest no matter the weather is good or bad and are channels for passing on the wisdoms of the village ancestors."

Zhang Haoliang (Secretary-General of Daba Mountain Ecology and Poverty Issue Research Institute, Sichuan; Forestry Engineer)
| | |
| --- | --- |
| Though we are based in different regions and have different work approaches, we are all striving to practise sustainable living, and the ripples we create will definitely benefit other partners. Please share your experience and reflections with us and send your stories to enews@pcd.org.hk. The subject of your stories should be related to your programmes. Please provide your name, project background and photographs. Please do not exceed 2,000 words. | |

Established in Hong Kong in May 2001, Partnerships for Community Development (PCD) is a community development NGO set up and funded by the Kadoorie Foundation (via a stream of funds allocated by the Hon. Mrs McAulay). The Foundation is a Hong Kong-based trust founded in 1970 by the late Sir Horace Kadoorie, who believed in the principle,"Help people to help themselves".

PCD believes that everyone, however deprived in material terms, has the right and the ability to lead a dignified and sustainable life in harmony with others, with nature, and with the world at large. Individual well-being is crucial in maintaining a harmonious and sustainable community. PCD believes that the community has to work together to reflect on its relationship with nature and on its cultural traditions.


Hong Kong Head Office:
13/F Chi Wo Commercial Building,
20 Saigon Street, Jordan,
Kowloon, Hong Kong
Tel: (852) 2458-0011
Fax: (852) 2430-7099
Email: info@pcd.org.hk
Webpage: www.pcd.org.hk



Programme Offices:
Yunnan Office
Sichuan Programme Office
Guizhou Programme Office
Guangxi Programme Office

Subscribe our E-newsletter
Unsubscribe
Tip - If you add enews@pcd.org.hk to your email address book, your email system will always recognize our message, ensuring our newsletter won't be classed as spam and you won't miss out.