Issue No.1 2011/05/12
From Mr. Andrew McAulay, Chairperson, Management Committee, PCD
"PCD's mission has developed to the point where we now aim to "reconnect people's hearts to nature... [More]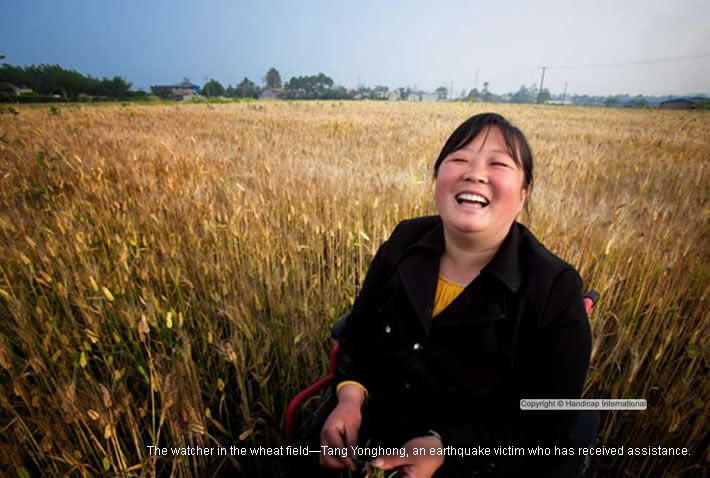 Out of the Haze‧Pondering the Future
──Special Issue on the Third Anniversary of the Wenchuan Earthquake
Today is 5‧12, the commemoration day of the occasion of the third anniversary of the Wenchuan Earthquake, and PCD is still working at the stricken area.
We have seen many smiling faces of victims who have gradually come out of the haze of the disaster. However, over the last three years, we have been pondering the following questions: In the face of a major disaster, where do the individuals and the community find the strength for revival? Has the explosion of the nuclear power plant in the earthquake in Japan aroused us to reflect on energy, life and development? Does a return to normal life mean returning to the consumerist mode of development before the earthquake? We believe that there is no way human beings can look at Nature disdainfully and remain whole and sound on our own. In the next phase, PCD's programmes will, continue to explore and build a space where human beings may live symbiotically with the earth. We hope to make use of the opportunities provided by the recuperation process after the earthquake to bring human beings forward to a better and more sustainable lifestyle.
To enable readers to have an understanding of the process of post-disaster spiritual reconstruction from the perspectives of various parties, we have invited our colleague who works in the stricken area, a high school student who has undergone emotional therapy, a doctor who has taken part in psychological treatment of victims and farmers who were at the threshold of death to share with readers what they have learnt and experienced in the last 3 years:




In response to recent discussion on Guangzhou's urban development, we held "Follow the Course of Nature, Seek Wisdom, Reflect on Development – Programme to Explore Sustainable Living" workshop…… [More]
"It was the most heart-touching training we had ever taken part in…" Some of the participants joined "Ecological Home – Education on Sustainable Living" said…… [More]

| | |
| --- | --- |
| To give PCD colleagues a chance to release their inner strength, this April our Hong Kong head office held a "山情水意 shanqingshuiyi" experiential retreat…… [More] | |

| | |
| --- | --- |
| At Yunnan Shi-ping NiuJie village, the core-centre of their health view is "being good"; being good in spirit, environment, temperament, and in body…… [More] | |

| | |
| --- | --- |
| "The external experts …Will they really be helpful to us?" Panda, a villager, asked two years ago. Today, he said, "…be humble, take off your shoes, roll up your trousers, and the farmers will take you like a son…… [More] | |
The Dignity that traditional Crop Varieties Granted to Farmers

"This is what everyone called small yellow corn! Why do the other farming households (now) grow hybrid corns ? We should conserve the small yellow corn. It is highly nutritious and is adapted to our climate and soil, and the yield is high too. It can also be made into wine. The older generations used to eat them……" Luo Xiuqiong is a Bu-yi farmer in the Wayao Village of Baiyun District in Guizhou. These traditional varieties are lost and Luo Xiuqiong does not know the reasons behind…… [More]
A Sugar Cane Binding Tool that Saves Labour

Guangxi is one of the main sugar cane producing provinces. Every year during harvest time when the sugar cane are to be cut, labour is hard although the fruit is sweet. How may one tie up the sugar cane without having to use so much effort? This is a question that gives farmers many problems. In some major sugar cane producing areas, we saw villagers making their own sugar cane binding tools which help them solve this problem quickly and effectively…… [More]
Urban Rural Ensemble

| | |
| --- | --- |
| Members: | JianYe Le Natural Life Shop(健怡乐自然生活店); Green Farming Urban Rural Cooperative(绿耕城乡互助社);Yue Yi Organic Store (Feng de-yi) (悦意有机馆(冯德意));Natureland Workshop; Real Concept Store (真意栈) |
| Co-partner: | PCD "Fragrant Soil" Editorial Team |
| Mission: | To promote urban sustainable living and to build a platform that supports diverse livelihoods. The "Urban Rural Ensemble" focuses on themes such as community supported agriculture, public charity (supporting education in rural villages) and environmental protection (separation of waste product, vermi-composting etc.). They help city dwellers live a better, higher quality life…… [More] |



| | | | | |
| --- | --- | --- | --- | --- |
| | | | | |
You may also find these inspiring:
PCD Vision & Mission / Our History / Our Publications / Primary Approach – Nurturing Facilitators / Where we work

"The great nature wilderness relieves me from the struggles in the classroom and consoled my heart from the deep sorrow."

~ Deng Yang-qiu (a Beichuan High School graduate 2010, Mianzhu)

Established in Hong Kong in May 2001, Partnerships for Community Development (PCD) is a community development NGO set up and funded by the Kadoorie Foundation (via a stream of funds allocated by the Hon. Mrs McAulay). The Foundation is a Hong Kong-based trust founded in 1970 by the late Sir Horace Kadoorie, who believed in the principle,"Help people to help themselves".

PCD believes that everyone, however deprived in material terms, has the right and the ability to lead a dignified and sustainable life in harmony with others, with nature, and with the world at large. Individual well-being is crucial in maintaining a harmonious and sustainable community. PCD believes that the community has to work together to reflect on its relationship with nature and on its cultural traditions.


Hong Kong Head Office:
3/F, Highgrade Building,
117 Chatham Road S.,
Tsim Sha Tsui
Kowloon, Hong Kong
Tel: (852) 2458-0011
Fax: (852) 2430-7099
Email: info@pcd.org.hk
Webpage: www.pcd.org.hk



Programme Offices:
Sichuan Programme Office
Guizhou Programme Office

Subscribe our E-newsletter
Unsubscribe
Tip – If you add enews@pcd.org.hk to your email address book, your email system will always recognize our message, ensuring our newsletter won't be classed as spam and you won't miss out.