By Xiang-tao
(Principal Rehabilitation Doctor of Chengdu Hospital No. 2 / The Occupational and Social Rehabilitation Programme Team for the Sichuan Earthquake)
Although the "5.12 Wenchuan Earthquake" brought catastrophe to Sichuan, we are thankful for all the support and help from people and communities all over the world. With their help, most of the survivors have recovered from their grief, and many have embarked on new livelihoods.
Out of Darkness and Back to a Livelihood
With the financial support of PCD, in 2008 the Hong Kong Workers' Health Centre, the Guangdong Work Injury Rehabilitation Centre and our hospital established the Occupational and Social Rehabilitation Programme Team for the Sichuan Earthquake. Yin-jian, a survivor, was one person who joined the team: he suffered from an occupational spinal-cord injury. My first encounter with this seriously-injured person brought me some big surprises, especially in seeing his independence and self-confidence. I pondered on the strength that had driven him to accept his handicap and go back to work with a new livelihood. I remembered how lost I was when some injured survivors became anxious, restless, hopeless and even complaining. From Yin-jian, I realised that almost all survivors who suffer from serious injury will go through this mental process. Yet taking them out of darkness and back to a normal livelihood as soon as possible is crucial to the Occupational and Social Rehabilitation Programme, and also gives personal meaning to those of us involved.
Hand-in-Hand with the Injured Survivors
In the next two years Yin-jian, the programme's therapists and social workers, together with me, learned "case-management" and "small-group" methods. We resolved problems and confronted difficulties with the injured survivors. I remember one 25 year-old survivor, Miss Zhao, who hit a real trough in her life after the quake. Unemployment had changed this once happy, outgoing woman into someone who was quiet, inward-looking, worried about being a burden on her family, and even anxious about the opinions and remarks from people around her. We followed her situation, provided counselling, supported her emotional problems, encouraged her to do physical training, urged her to communicate with relatives, helped her pick up the hobbies and interests she used to have, and arranged communication and outings with other injured survivors.
Through all these efforts Miss Zhao became self-confident, and was soon able to communicate a lot better with her parents, husband and son. She was willing to meet other people and help other survivors; she encouraged those without hope to be strong and brave, and has finally become one of our "Elder Sisters". Stepping out of her depression, she regained the confidence to work. After joining the basketball and fencing teams of the Chengdu handicapped organisation, she was selected as a representative of Sichuan to take part in the Paralympic Games in Beijing. Aiming at a stable income, Miss Zhao made use of her computing skills and hard work to fund and equip her shop, a local "photocopy store". Her trauma has been replaced by a smile, and the will to start a new life is even stronger.
Becoming Reliable Partners
From Miss Zhao's big change, I came to recognise the meaning and significance of our programme, and the unlimited potential of human beings. Before working in the team, I thought a doctor was an "educator," whose job was to teach the injured survivor. Now I have come to realise that a good rehabilitation doctor is also a reliable partner to the survivor. Other than helping their physical body, we are also keen to open up their heart, help them emerge from darkness and find the resources for future living.
As a doctor working with communities struck by the Sichuan Earthquake, I am lucky to gain resources, support from partners, new rehabilitation theory and methods. These have benefited not only my work, but also my hopes and expectations for the future livelihoods of my patients. I am so pleased to see that most injured survivors have started new lives — including going back to school, moving to a new house, starting a new job, starting a new family. In the end, we humans cannot protect ourselves from serious natural disasters - but with mutual support and effort, we can better cope with them, and the survivors can be better rehabilitated into society.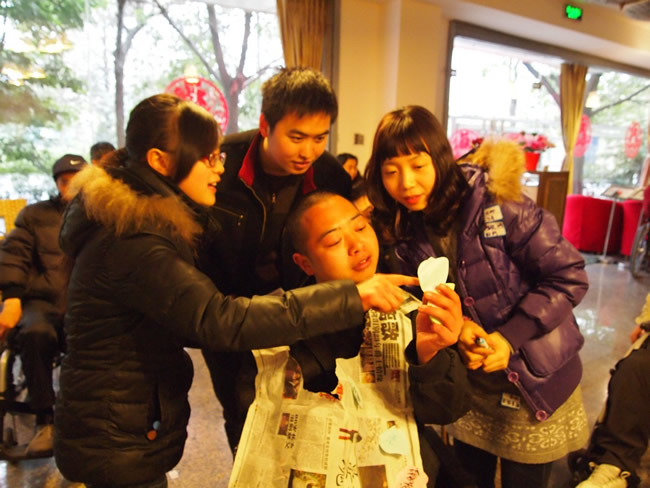 Earthquake survivor Ceng Yuan Bin (middle), suffered from spinal-cord injury, is doing exercises with the help from Dr. Xiang-tao (right).