—Xie Farong from Mianzhu, Sichuan, reborn on 12th May
Text / Photo: Cynthia Wong
Eng Translator: Cheung Choi Wan / John Fellowes
"These are good, have some." Standing among pear trees, Xie Farong was holding a few small pears in her left hand as she extended her right hand to the top of a tree to pick more. She was laughing so much that her eyes were half-closed and became straight lines. Who would have guessed that only two years ago Xie Farong was lying paralysed in a hospital bed, hopelessly thinking: "I won't make it"?
"I'll donate my body if I die…"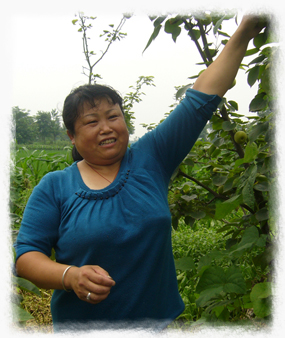 Xie Farong is from Baoshui Village, Zundao Town, Mianzhu City. Like many farmers in China, she is contented with what she has. Her husband and daughter did not suffer injury in the earthquake. Xie Farong, a polio sufferer, did not fret over why the heavenly gods chose her again. "Many were injured and many died at that time. There was a severe shortage of medical workers. My upper limbs were fractured and my right shoulder was dislocated. My waist was injured from being crushed, and various soft tissues of my body were damaged. I was a handicapped person. The moment I learnt I was injured, I thought I won't be able to make it. I didn't have much medical knowledge and many patients around me had to undergo amputation." Xie Farong went as far as thinking that in case she died she would donate all her good limbs to those in need.
Now 43 years old, Xie Farong is still here, living with her husband and 14 year-old daughter, and working hard for a better life.
"For over a year after the earthquake, I went through numerous operations to fixate external and internal fractures in my right arm and to remove the fixators. At first the external fixation felt heavy. In summer I had difficulty breathing when I slept," Xie said. In spite of the physical pain, and the post-earthquake psychological stress that affected her everyday life, Xie was grateful. She was grateful for the free surgery and treatment provided by the hospitals, and to the volunteers who provided her with counselling. She was also grateful for the meticulous care and help of her husband and her daughter when she was sick. Gradually she felt she was living again.
Grateful for living again
Accept what has happened and walk on.
Xie Farong has accepted what has happened. Like most survivors, she had to endure a difficult period of physical and psychological recuperation after "5.12":
| | |
| --- | --- |
| 12 May 2008 | Injured during the earthquake, Xie was carried to a government-run open shelter run for concentrated care. |
| 15 May | Xie was moved to a hospital at Daping, Chongqing. |
| 16 May | Underwent osteo-synthesis and stayed in the hospital in Chongqing for a month. |
| Mid June | Returned to Mianzhu. Since her house had collapsed in the earthquake and was not yet rebuilt, and she had difficulty moving, Xie had to stay in the house of a relative for a month. |
| End of July | Xie's condition had improved and she moved home, and lived in a makeshift house. |
| August | Handicap International provided Xie with rehabilitation and therapy. |
| September | Underwent surgery to remove the external fixator at the People's Hospital of Mianzhu. |
| December | Underwent surgery for internal fixation. |
| Mid June, 2009 | Underwent surgery to remove the internal fixator at the People's Hospital of Mianzhu. |
| July 2009 | Rehabilitation treatment at the clinic of Zundao Town. Handicap International continued to provide Xie with the necessary treatment. The result was obvious after three months of treatment. Xie could raise her hand over her head. She could comb her hair and wash her face. She could also do some simple housework. Basically, she could take care of herself. |
| May 2010 | With the help of Handicap International, Xie's house was reconstructed. The steep stone staircase in front of her house was rebuilt into a shallower ramp. |
"I can wash my face with my right hand!"
PCD worked with Handicap International in providing psychological and physical treatment to the injured in the earthquake. Xie Farong was one of the beneficiaries. During the three months of rehabilitation, she held little hope for complete recovery. A year after the earthquake, she was still going in and out of the hospital all the time, and her fractured upper limb was under treatment. It was very difficult for her to manage simple daily activities: she had to wash her face with her left hand; when she took a bath, she couldn't rub her back by herself and her daughter had to do it for her; she could not brush and comb her hair well… With the wholehearted guidance and help of the therapist from Handicap International, the everyday life of Xie gradually returned to normal.
"The first time I used my right hand to wash my face after I was injured, I was very happy. I was really excited!" Xie said thankfully. Now she brushes her own hair and does not need her family's help when she takes a bath. Inside she feels more at ease. She thinks her recovery was due first to the existence of organisations such as Handicap International. Secondly it was due to her persistence in doing exercise training, despite the pain and hardship. She still does training, twice a day, for her shoulder joint.
Active attempts at self-reliance
The first step in returning to a normal life is to take good care of the body. But Xie, a dynamic person, couldn't wait. Even when she was going in and out of the hospital, she wanted to rebuild her home as soon as possible. At the end of 2008, using the RMB 20,000 government subsidy and some money she raised herself, she began to rebuild her house on a new piece of land, close to her old house. When she left the hospital in October 2009, she rented and opened a shop across the road from Zundao Clinic, mainly selling food and everyday necessities. Business was good, and patients having rehabilitation treatment in the hospitals came round to help. However, Xie did not know how to protect herself and did not sign any contract with the owner, who kept raising the rent. After three months she had to close down the shop and move the business to her own home, but business there was not so good.
In March 2010, Handicap International and the Disabled Persons Federation of Mianzhu City launched a project on income generation, providing every person injured during the earthquake with an interest-free loan of RMB 2,000. Xie was one of the beneficiaries. Xie and her family were hardworking, and had a strong income-generation ethic. Using money they raised themselves and the loan, they bought four cows and four pigs. Later they bought 20 ducks too. However, they lacked experience of cow rearing. One cow died, which meant a loss of over RMB 2,000. Swine fever has been rampant this year and Xie has also suffered rather big losses in pig-rearing. In spite of all these setbacks, as an optimist, Xie never gives up an opportunity that may help her family on the road to self-reliance. Recently, she took part in the PCD pig-rearing training, which trained participants on the use of ecological pig-sties. She is now considering this method to improve the way she rears pigs.
"I'm preparing to build an ecological pig-sty. Due to the scale of the sty and our capital constraints, it can only be carried out step by step. I have some experience in animal husbandry and I like to collect relevant information. I also maintain contact with experts and technicians. When the scale and the capital grow to a certain level, I'll start to build the ecological pig-sty." She plans to start building within two years.
"We have to repay the loans and also pay for the children's schooling. I'm willing to try any work, no matter how hard it is, so long as it brings in income," said a vigorous Xie. Obviously she isn't going to let an earthquake beat her.
Photo Sharing:
+ Click the thumbnail to enlarge photo
Xie Farong is now able to hand-harvest her pears.
Xie Farong feels thankful for being able to move her limbs again.
Colleagues from PCD and Handicap International visit Xie Farong.